May 16, 2020
Sat May 16 08:40:09 2020
<7d56dcb3> zucc just censored both my main and alt accounts, for no real good reason.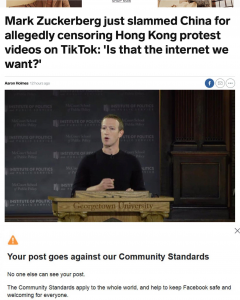 <7d56dcb3> chicom fuckery doesn't really affect me, but american commie fuckery does.
<7d56dcb3> my alt got a 7 day zucc for commenting "where do i send my eggplant pics to?"
<7d56dcb3> and after 4 days, my main got zucced too, and they didn't even give a reason for it.
<7d56dcb3> they didn't even tell me how many days on the main, only that it's "temporary".
<7d56dcb3> this isn't chicom fuckery guys, this is american commie fuckery. fucking amcoms.
<7d56dcb3> no fucking chicom ever got me zucced in facebook. this is pure american bullshit.