March 13, 2023
Mon Mar 13 04:29:19 2023
(*4cfb807c*):: https://texasguntrader.com/category/948/Rifles-for-Sale-Semi-Auto-for-Sale/listings/2429716/AK47-CENTURY-ARMS-VSKA-24-KARAT-GOLD-CUSTOM.html
*** AK47 CENTURY ARMS VSKA 24 KARAT GOLD CUSTOM
*** AK47 CENTURY ARMS VSKA 24 KARAT GOLD
CUSTOM RUSSIAN RED; 7.62X39
The VSKA Synthetic is for shooters wanting a base model for customizing. Built with heat treated S7 steel carrier, feed ramp, front trunnion, featuring a carburized 4140 steel bolt and RAK-1 trigger group. Features a 1.5 mil stamped steel receiver, large T-shaped magazine catch, AKM-compatible furniture and it's side-scope rail ready. Includes one standard 30-round magazine. Made in the USA.
This gold AK comes with a 24 karat gold plated, 30 round magazine.
DESCRIPTION:
24K All Gold VSKA AK47
BRAND:
Century Arms
MODEL:
AK-47
TYPE:
Rifle, Semi-Auto
CALIBER:
7.62 x 39 mm
FRAME:
24 Karat Gold
FINISH:
24 Karat Gold
GRIPS:
Black Polymer
SIGHTS:
Adjustable Post/Adjustable Leaf
SIGHT TYPE:
Adjustable Sights
BARREL:
16″
OVERALL LENGTH:
37.25″
WEIGHT:
7.8 lbs
CAPACITY:
30 + 1
# OF MAGAZINES:
1 Standard + 1 Gold Plated
SAFETY FEATURES:
Manual Safety
____________
ALL FIREARM PURCHASES MUST BE 21 YEARS OF AGE OR OLDER, HAVE A CURRENT, VALID TEXAS DRIVERS LICENSE OR LTC LICENSE LISTING CURRENT ADDRESS. 
NON TEXAS LTC LICENSE OWNERS REQUIRE FBI BACKGROUND CHECK.
Contact me directly for multiple box discounts, specials and other hard to find items
FFL DEALER 
ALL SALES BY APPOINTMENT ONLY and UPS Ground Shipping
LOCATION – ALLEN & MCKINNEY, TX  
PAYMENT – CASH, VENMO or CREDIT CARD (3% discount does not apply to VENMO or Credit Card Purchases
TEXAS SALES TAX 8.25% 
ProSource Firearms
EMAIL AT:  sales @ prosourcefirearms dot com
WebSite:
4 6 9 – 7 nine 7 – three 8 1 seven  (TEXT FOR QUICK RESPONSE) 
ALL SALES FINAL
NOT RESPONSIBLE FOR PRINT ERRORS
*** texasguntrader.com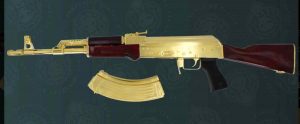 (*6952cd93*):: +public!